Scientific research can be sometimes quite fun. Researchers at Georgia Tech are working on AutoRally robot car that not only control and steer itself but it is also able to learn how to drive and how to make powerslides. The car is evaluating 2560 possible trajectories and all of them are tried by the software. Then the weighted average is computed in order to be as fast as possible and not to crash. The robot car pre-computes 2.5 seconds in each moment (60 times each second).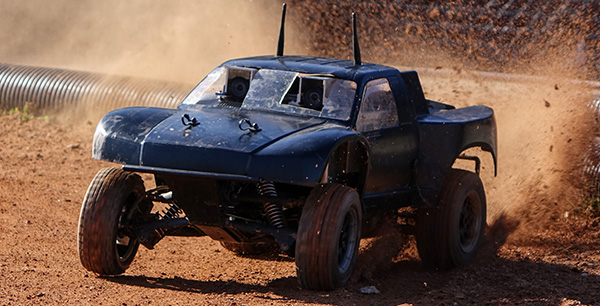 The operator only needs to make few laps using the remote control to teach the car some basic movements. All the other capabilities are learned by the software itself. If something wrong happens the car can incorporate it into the algorithm and be able to handle critical situations better next time. It can be useful in practice when autonomous cars are quite good in driving when the conditions are good and predictable and it is well trained for many typical problems but no one knows what can happen when some really unexpected conditions occur.
AutoRally car is 1.0 metre long, 0.6 m wide and 0.4 m tall. It weighs 21 kilograms (46 pounds) and it is able to drive 27 m/s (60 mph, 96 km/h). It was derived from 1:5 RC truck and 3D print was also used in construction of some parts. It has two 6500mAh batteries for driving the car. Computation of the steering algorithm runs on quite powerful Mini-ITX PC. This PC has quad-core Core-i7 Skylake processor, 32 GB DDR4 RAM, 512GB m.2 SSD, 1TB SATA3 SSD, NVIDIA GeForce GTX 750Ti GPU and Wi-Fi. There is 11000mAh battery to run this PC.
As you can see, the car is quite fast but it has also crashed sometimes. The authors said that this was mainly problem of software crashes but it was also the issue of changed surface of the track.