Amazon Prime Air is a system of partially autonomous delivery drones that should be used to deliver small packages in less than 30 minutes. Even though Amazon wanted to test these drones in US, it was not very lucky. US F.A.A. (Federal Aviation Administration) demands an operator that controls the drone all the time within his sight, the drones have to weigh less than 55 pounds (25 kg) and can fly only during a day.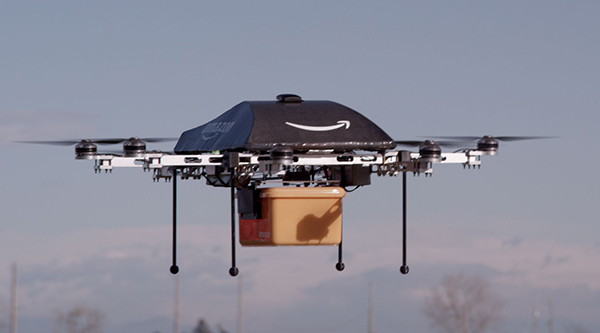 Such requirements are a huge problem for Amazon that wants to use these drones in various locations and hours. It is obvious that operators cannot be everywhere and it also does not make sense. The drones were invented to replace operators and people that take care about delivery.
On the other hand, United Kingdom (The Civil Aviation Authority) is much better partner for Amazon. It has permitted tests of Amazon drones beyond the line of sight of their operators. One operator can control more drones at once because they are partially autonomous. They should be able to identify obstacles and should avoid them. The drone can fly at 400ft (122m) altitude.
Small drones have several advantages. They can deliver the packages very fast, it is also cheaper and more eco-friendly. Amazon will continue trying to convince F.A.A. to make the rules even less strict than today but it is not expected that such a situation can happen in the next two years.